By Keith Skenandore
Editor
It took 15 years in the making but the Black Creek American Legion Post 332 dedicated the completion of their Black Creek Veterans Memorial. 
Although completed a few months earlier, a ceremony was held on Saturday, August 26, to unveil the monument to the community.
Frank Lindsley, a member of Black Creek American Legion, said a good crowd gathered for a grateful and patriotic duty to dedicate the memorial to those veterans who died in their country's service.
"May we again dedicate our organization and ourselves as our sacred ideals that are represented here," Lindsley said. "After 15 years and four attempts our memorial is finally finished."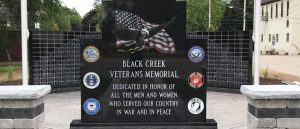 State Vice-Commander Todd Brown everyone needs to pause and think about what a memorial actually is.
"It's a remembrance of the brave men and women who have given the ultimate sacrifice for our great nation," Brown said. "Let those for whom it represents never be forgotten. This memorial will be here forever."
Outagamie County Executive Tom Nelson said everyone has heard of the historic stories of war but unfortunately the same cannot be said for those names on the Veterans wall.
"That is why today is so important," he said. "There sacrifice and their stories are the same as some of the well known stories. That is why it's so important we have this memorial. "It's such a wonderful and beautiful reflection on this community and this county." Pat Amerson, legion member memorial committee member, said the memorial was generated with the hope that future generations will remember the sacrifices of all those veterans. He mentioned the major sponsors and contributors who helped make the memorial possible.
"To all, we offer a sincere thanks," Amerson said. "It's no surprise what's under the sheet here but we are going to have an official unveiling." Flags were then raised to playing of "Colors" by Brady Madison.
A 21-gun salute concluded the ceremony.
Pat Amerson, Memorial committee member spoke at the dedication on Saturday, August 26. Below, Colors was played by the trumpeter Brady Madison as the flags were raised. – Photos by Keith Skenandore